Terms of Service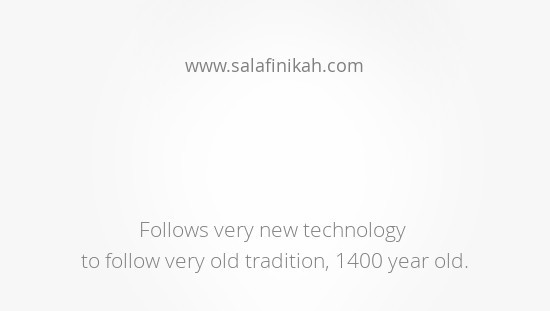 Terms of Service
This is a legal agreement between the customer and Salafi Nikah. By using this website, you agree to be bound to the following Terms and Conditions. If you do not agree with these terms and conditions then you are not authorised to use or access this web site. The application form is a contractual offer by you to us subject to these Terms and Conditions and no others. On acceptance by us, there exists a binding contractual relationship between us and yourself. This document sets out the relationship between you and Salafi Nikah.
Memberships in Salafi Nikah are for men and walis of girls. Each memebership can be used to make one profile. You may not assign or otherwise transfer your account to any other person or entity.
It is your responsibility to ensure the accuracy of all details (personal or otherwise) provided by you about yourself to us for inclusion in your Advertisement. It is your responsibility to inform us of any changes to personal details or circumstances at the earliest opportunity. You are solely responsible for the content or information you transmit to other members.
We cooperate with law enforcement enquiries including other parties' rights to enforce laws such as intellectual property rights fraud and other rights. You expressly authorise us to disclose any information about you to law enforcement and other Government Agencies including the Police which we at our sole discretion believe necessary or appropriate in connection with any fraud, intellectual property infringements or other activity which is or may be illegal or may expose us to legal liability.
Our services are strictly for Muslims and for those who can follow the rules in Islam about marriage. Eventhough we verify each profiles in Salafi Nikah, we can't and we don't guarantee the qualities you are looking for in the profiles and persons. We are providing only a primary sorted listing. It is your responsibility to make sure that you select the right person for you or your girl.
You must satisfy yourself as to the bona fides of those to whom you are introduced. You are solely responsible for your interactions with other members. It is solely your responsibility to ensure your own safety when meeting/communicating with other members.We do not accept any liability for your conduct or behaviour after an introduction has been made nor for any information being forwarded on to a third party.
Signing and submitting the application form, for processing, authorises us to disclose your chosen methods of contact to other members and wali as part of your member profile.
You will use our service in a manner consistent Islamic principles and with any and all applicable laws and regulations. You will not post any photos containing nudity.
It is possible that other customers, users or unauthorised users (like hackers, in the negative sense) may post or transmit offensive or obscene materials on the site and which you may be involuntarily exposed to such offensive and obscene materials. We are not responsible for the use of any personal information which you may choose to disclose, or as a result of using, our services. Please carefully select the type of information which you post on the site or release to other customers.
You will defend, indemnify, and hold harmless our officers, directors, employees, agents and third parties, for any losses, costs, liabilities and expenses (including legal costs) relating to or arising out of your use of our service, including any breach by you of the terms of this agreement.
You represent and warrant to us that the information posted including your photograph are posted by you and that you are the exclusive author and the exclusive owner of your photographs. You assign to us, with full title guarantee. Your profile and your photographs posted, at any time, in connection with the site absolutely any and all moral rights to be identified as the author of your profile and ownership of photograph and any similar rights in any jurisdiction in the world. In addition other names or copyrighted information, which has copyright protection, whether or not it is identified except for that information which is in the public domain or for which you have been given written permission by the owner of such information, you will not copy, modify, publish, distribute, perform, display or sell any such proprietary information.
We reserve the right to expel you immediately in the event that your behaviour has caused complaint and we consider that complaint to be serious and justified.
We reserve the right to reject any profile or photo which does not comply with the above terms and conditions.We reserve the right to reject an application on any basis and without providing a reason.
We reserve the right to modify the services without giving any prior notice.
You acknowledge that it is technically impossible to provide the Site free of faults and that we do not undertake to do so; that faults may lead to the temporary unavailability of the Site; and that the operation of the Site may be adversely affected by conditions and performances outside our control, including, without limitation, transmission and telecommunications links between us and you and between us and other systems and networks. We and/or our suppliers may make improvements and/or changes in or to the Site at any time.We accept no liability for any temporary or even permanent unavailability of the Site arising from events of any kind or circumstances which are outside our control even though we shall use all reasonable endeavours to minimise or mitigate such effects.
We will perform our services with reasonable care and skill. No representation or warranty is given that the services will be uninterrupted or error free or that all errors or defects can be corrected or remedied.We will not be responsible for any loss or damage sustained or incurred by any third party (including without limitation, any loss of use of any software or equipment, or loss of or spoiling of any data) resulting from any defect, deficiency or error in any equipment or software or any associated documentation, or for any failure or interruption of any telecommunications facilities or network systems which is beyond our control.
You are responsible for the security and proper use of your user names and passwords used from time to time in connection with the Site and must take all necessary steps to ensure that they are kept confidential, secure, used properly and not disclosed to unauthorised people. You must immediately inform us if there is any reason to believe that your user name or password has or is likely to become known to someone not authorised to use it or is being or is likely to be used in an unauthorised way. If you forget or lose a password or user name you must contact us and satisfy such security checks as we may operate. We reserve the right to suspend user name and password access to the Site and the Services if at any time we consider that there is or is likely to be a breach of security. We reserve the right (in our sole discretion) to require you to change any or all of the passwords used by you in connection with the Site. You must immediately inform us of any changes to the information you supplied when registering for the Site.
Terms of service are subject to change.